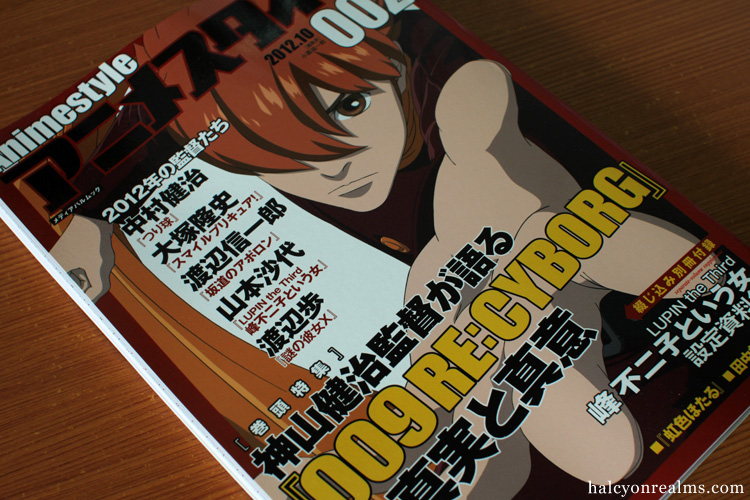 The 2nd issue of Animestyle magazine ( read the review for the first issue here ) features Kamiyama Kenji's 009 Re: Cyborg film, complete with some select character design sheets and storyboards from the film. (see images below)
The art of book for the animated film has since been released as well. I'll decide if I want to get it after watching the film – but it does look promising from the trailers I've seen. Kamiyama Kenji directed the much lauded GITS Standalone Complex series, which I love, and music is by the legendary Kenji Kawai.
The magazine also showcases the prominent anime directors of 2012 and their films, including directors like Watanabe Shinichiro, Nakamura Kenji, Sayo Yamamoto ( Michiko To Hachin ) and more.
(below) A scene from the animated series Sakamichi No Aporon ( Kids On The Slope ) animated by the talented Bahi JD – an upcoming post will feature an interview with him and his work.
(above and below) Imageboards and character design sheets from the anime Niji-iro Hotaru, directed by Konosuke Uda.
(above) A short feature on the late Satoshi Kon's Tokyo Godfathers to commemorate the release of the blu-ray.
(below) Character design sheets used in the 4th animated feature film for Lupin The Third – A Woman Named Fujiko Mine. In the first issue of the magazine this was a separate supplement booklet but here they have bound it together with the  magazine itself.
Animestyle is an excellent source of information for the latest anime productions from Japan; even if you cannot understand Japanese, the visual content and images, as well as the supplement included with the book still make it worth your while. Recommended.
"Animestyle Magazine Issue 2 – 009 RE:CYBORG アニメスタイル 002『009RE:CYBORG』特集" details :
Dimensions – 25.6 x 18.2 x 1.8 cm
Soft cover, 175 pages. Also comes with an additional supplement ( bound together with the main book )
Color with some B&W sketches, in Japanese

Buy From Amazon.com | Amazon CA | Amazon UK | Amazon FR | Amazon IT | Amazon DE | Amazon ES
You might also be interested in these items :
6